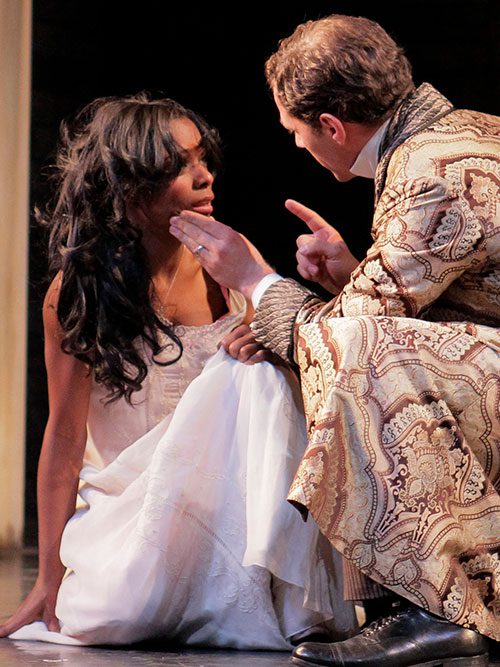 Romeo and Juliet
8/23/22
Thursday, October 27, 2022
Time: 7:00pm
Location:
Fuller Hall
St. Johnsbury Academy
1000 Main St.
St. Johnsbury, VT
Admission: Adults – $48, $38, $28, $15. Students 18 and under – $15.
Ticket prices do not include any applicable fees or sales taxes.
Seniors and Catamount Arts members save $3.00 when ordering in person with ID at the box office.
Please refer to Catamount Arts website for any current COVID-19 related restrictions.
Written by William Shakespeare
Directed by Leah C. Gardiner
William Shakespeare's iconic and timeless Romeo and Juliet is one of the greatest love stories in literature. The gripping drama spun out of the ancient grudge between two families makes Romeo and Juliet as relevant to modern society as it was to audiences four centuries ago. The star-crossed lovers follow their passion to the ultimate tragic end. In Romeo and Juliet, Shakespeare offers some of the most glorious poetry ever written, spoken by complex and memorable characters, establishing the standard for all love stories written since. With gorgeous costumes and music, enchanting parties, moonlit nights, dank graveyards, and blood-strewn streets, The Acting Company's fresh production breathes new life into this enduring tale.
Founded by Margot Hartley and legendary theater director, John Houseman, actors who have worked at The Acting Company, over the years, include Kevin Kline, Patti Lupone, Frances Conroy, Kevin Conroy, Keith David, Megan Gallagher, Jack Kenny, David Ogden Stires, Jeffrey Wright and Rainn Wilson.
Romeo and Juliet director, Leah C. Gardiner, is an Obie Award-winner known for the "incisive clarity" (The New York Times) of her work with physicality and text. After expanding into directing for television and screenwriting over the past 18 months she looks forward to directing Romeo & Juliet for The Acting Company, while in development on several commercial musicals.